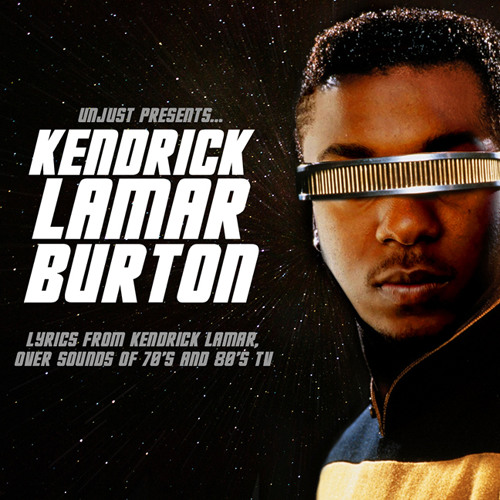 Unjust Juxtaposes Golden Era TV With Kendrick Lamar Lyrics On Kendrick Lamar Burton
Unjust, producer of Chosen Few, is following up his recent production for Hieroglyphics Imperium, on the "First Light" (Opio and Pep Love) album, Fallacy Fantasy, and the Hieroglyphics album, The Kitchen, as well as his own instrumental album/movie Full Melt, with his new mixtape, Kendrick Lamar Burton, a hilarious ode to the sounds of golden era television and to the emcee who has brought golden era lyricism back to the main stage; Kendrick Lamar.
Download Link to Unjust's Kendrick Lamar Burton mixtape: https://soundcloud.com/unjust-1/sets/kendrick-lamar-burton
Ranging in emotion from a serious tone on "Sing About MeGyver" to a comical farcical tone on "Trek It To You", the mixtape provides listeners a chance to hear Kendrick in a new way. As Unjust says, "Kendrick was the first emcee in a long time that made me love a song despite not really feeling the beat (Rigamortis aside). The lyricism was just so bonkers, that it didn't matter at all! After much discussion, I found that many old school heads like myself felt that same way...which is all good! I fully understand that I am not the target market! I'm not in the fucking club anymore...well, not too often anyway. I'd rather be smokin' in the lab, listening to old records, and watching old TV." Which is where the inspiration came from for the album. I love the feelings that were conveyed by the scores and background music of old television shows. There was so much mystery and urgency. It made you feel certain things and left room for your imagination to create the rest of the emotional landscape for what you were seeing. Whereas today's music is so maxed out electronically and sonically dialed in, there's no where for you to go with it in your mind. It takes you there already, instead of leading you on a path to get there yourself---if that makes any sense? So I sample a lot of that music to make my beats. I wanted to do a thematic project based around that. I saw an old reading rainbow episode, and my stoned mind made the connection with the name pretty quickly."
For added impact Unjust leveraged his other skill set; visual design to develop images for every song that superimposed Kendrick's face over imagery from whatever show the music was sampled from. The result is a hilarious, all around enjoyable project that you can download and share all the music and imagery from KendrickLamarBurton.com (also designed by Unjust).
Unjust's Kendrick Lamar Burton mixtape is humorous, it's funny; it's slappin—and it's free!
The video for "She Reads Me" is a salute and homage to the bad-ass women of the 80's, as well as to Kendrick Lamar, and LeVar Burton themselves:
Song & Video Produced and Animated by Unjust)

Continue Reading